Collapick Tempo – significant improvements on production
Collapick Tempo expands the functionality of Odoo ERP for industrial use and reduces the view of each user group to an intuitive minimum.
Well thought-out improvements to make your work flow easy.
Collapick Tempo has increased the operational efficiency of our customers by 20-50%.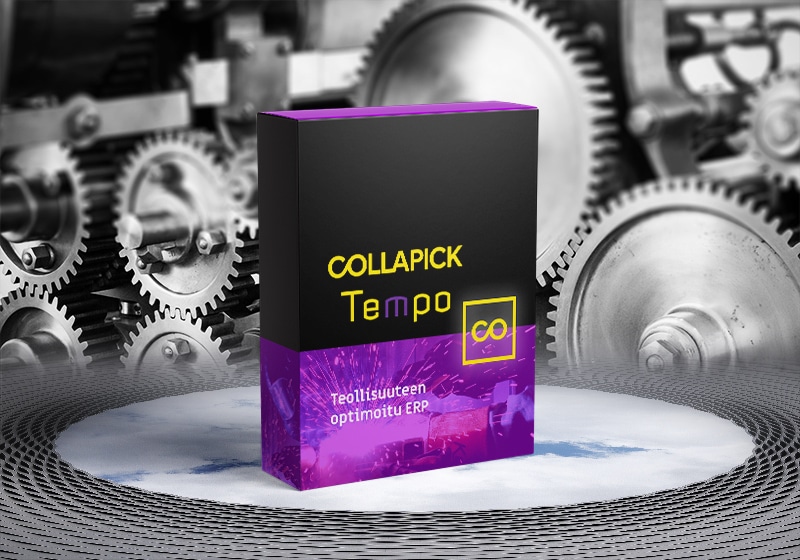 Read more about the benefits of Collapick Tempo
Where does the 20-50% come from?
Odoo monitors the inventory and can automatically suggest replenishments based on consumption data.
Just the information you want to see from all the modules, all in one place.
You can easily start using the integrated time tracking module in Odoo and give up external solutions.
Decision making becomes faster with an interface that is both visually clean and intuitive to use versus searching for and combining information from behind multiple tabs and from several programs.
Print directly from the system what still needs to be printed. Everything you put in Odoo you can print from your desktop, tablet and mobile phone.
Add activities to yourself and delegate them to others. Set reminders. Everything is visible also in your calendar.
Schedule recurring maintenance and inspections and review them in your calendar.
Send RfQs to suppliers automatically based on inventory levels and procurement rules.
Set quality control to activate where it needs to in your workflow.
Create automatic email responses based, for example, on the type of support request.
With WLAN easy printing you can print, for example, referrals and labels directly from your mobile device.
Save, for example, pictures with your mobile device directly into the system.
Fill, for example, inspection reports with your mobile device.
Clock in your work with your mobile device.
Preserve your documents in Odoo: less paper and external systems.

Find the essential in the right place: almost everywhere in Odoo you can use the chatter: an archiving chat embedded into the system (like WhatsApp, Teams, Slack), where you can easily preserve and find the latest information.
Collapick Tempo and Odoo features
MES - Manufacturing Execution System
Kanban view or the "Trello of manufacturing"
Receiving and sending stock
Kristian Rasehorn
Sales
+358 44 987 0468
kristian.rasehorn@collapick.com
Jarno Laine
Sales
+358 50 301 2956
jarno.laine@collapick.com