Understanding the business of our customers, their processes and needs, is our starting point. Technological solutions are secondary, but we are happy to have designed a product that meets the needs of industrial use.
We help our customers remove their most painful bottlenecks and create a foundation for sustainable growth. During the implementation project we share frankly our advice on what we have learned about how it is best to do things and what has usually worked.
Customer stories often mention
Ponniste
, which is a product we coded from scratch. It has mostly been replaced by
Collapick Tempo
that uses Odoo ERP as its engine.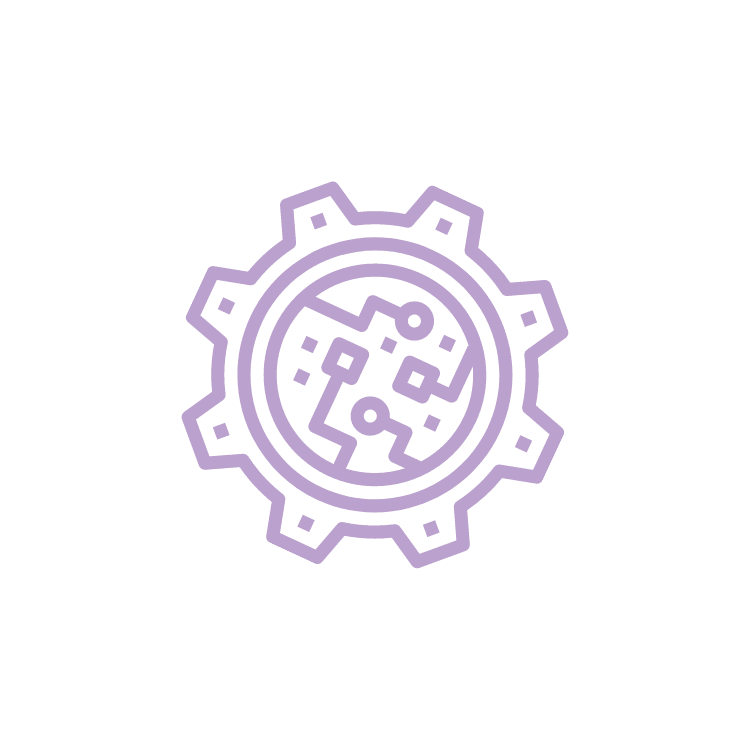 Other Customers
Cities and Regional councils
We have produced interesting and innovative projects for cities and regional councils.
Our project implementetions have been well received also at the EU level.
We have plenty of experience in planning projects and developing them with professional commentary.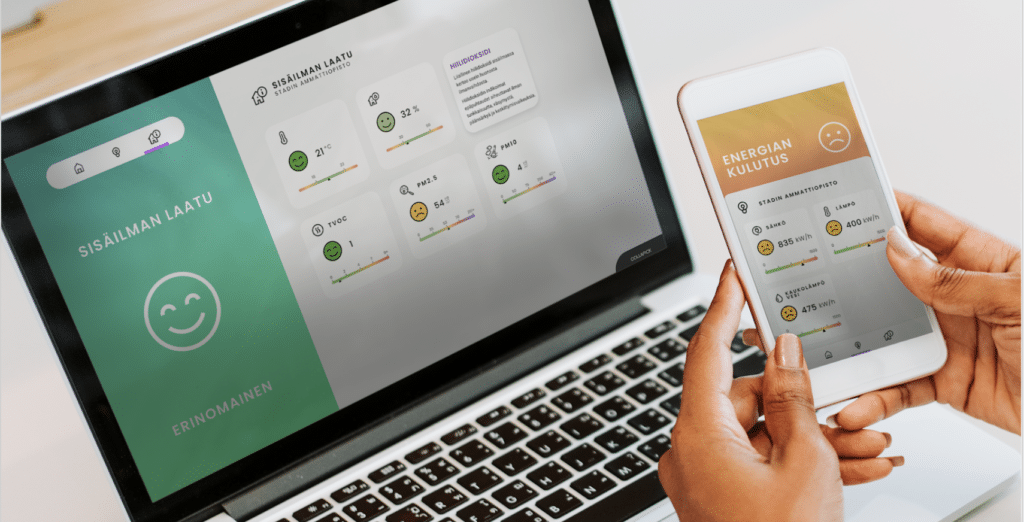 Energy Wise Cities project
We took part in developing a system to collect and visualize energy and environmental data as a part of the Energy Wise Cities project. The object was to visualize energy and indoor air quality data so that anyone can understand the data to make informed decisions about their energy consumption as well about what has an impact on their indoor air quality.
The visualization took account of the fact that the average consumer may not necessarily understand what measures such as kilowatt-hours mean, so the data was presented in a way that avoids using such terms. The amount of text was likewise minimized so that people of different linguistic backgrounds would be able to use it intuitively.
The service runs on web browser and is also responsive so it is easy to use it on a mobile phone or a tablet. This implementation method also makes it possible to use the service through an info display.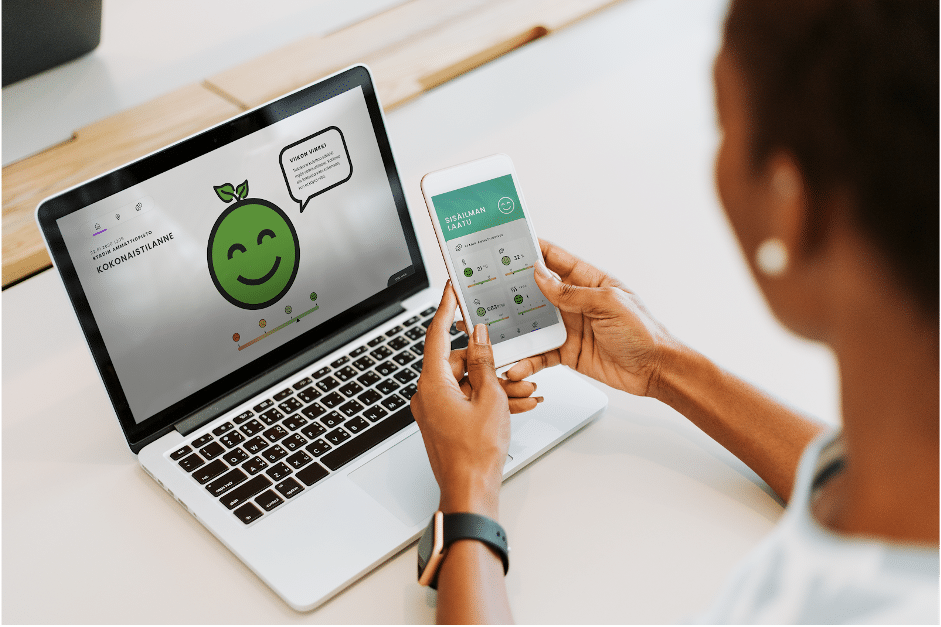 Regional Route planning portal
The goal was to create a service for the inhabitants of and tourists in the region that combines all route planning data in one place. The focus was to make provide a service that is easy to use and meets the needs of the end users.
Part of the MAMBA project
Our implementation was praised in an EU wide project meeting
We researched open source APIs and the possibility of using the NAP (National Access Point) API
We arranged workshops to get acquainted with the precise needs of the municipalities and transport operators
See the service in action here!
Regional Communication Channel
We created a service through which the inhabitants of the North Karelia region and the regional council can communicate. It gathers communications from multiple sources into a single whole.
Most recent communications / messages are sent to the mobile phones of the inhabitants.
They can easily fill local surveys.
They feel they are being heard and that they can take part in decision making.
Clean graph visualizations of the responses / results.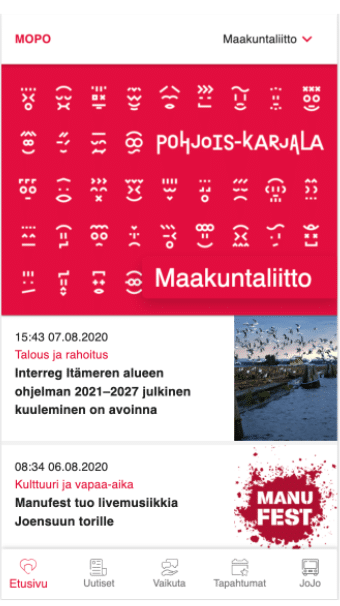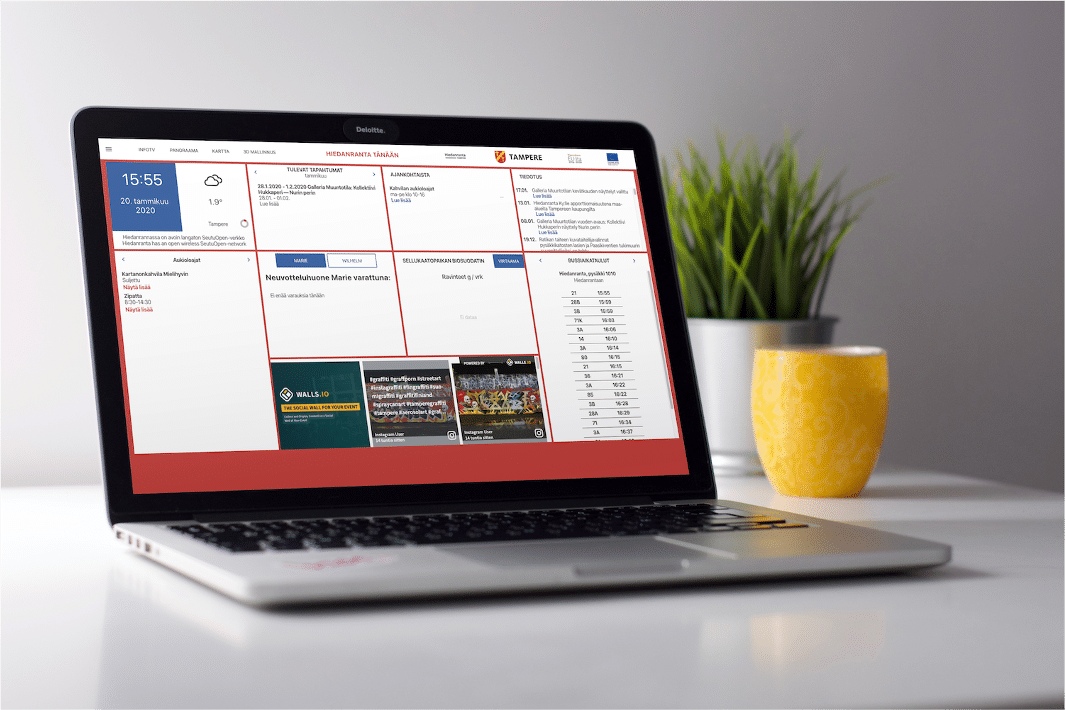 Smart City Guidance Project
The goal of this info display pilot was to improve the guidance in Hiedanranta by collecting, combining and forwarding information. We used our Ponniste information gathering and forwarding platform in the project.
The info display gives the user a quick overview about the events in area and allows them to easily drill into the details. The users showed interest in the info display and the project has potential for a wider implementation at a later date.
Central features of the project were UX /UI design, usability and integrations.